Description
Compatible with PTE AV Studio version 10 and above.
Not compatible with version 9 of PicturesToExe.
Style configuration
Default view duration: 12s
Default transition time: 2s
Resolution: Up to Full HD 1920×1080
Screen format: optimised for 16/9, compatible with 4/3 format (or other formats)
Image format: landscape
Aspect ratio: All aspect ratios are possible (4:3 , 3:2, etc.).
Importing styles into the (DS) Sparkling text and animated framecategory

Modular construction of styles for easy adaptation
Preview images and video not included
Zip file name: DS-Sparkling-text-animated-frame.zip
Size of the .zip file: 104 MB
An example of the different configurations is shown in the video overview below :
Customise the content of the styles
Once one of the three styles is applied to a view, it is possible to customize the content of the animation in the "Objects and animation" view of PTE AV Studio.
The customisation of effects is useful when you want to change the content or location of the text, or if you want to remove the animated frame and keep only the text. It is also possible to remove the text and keep only the animated frame, etc.
Change the content of the glittering text
The content of the glittering text must be written in the 3 objects numbered 1 to 3. Object 1 contains the body of the text, object 2 contains the outline of the text and object 3 contains the light halo around the text.
The same text must be entered in field 4 for each text object (body, outline and halo).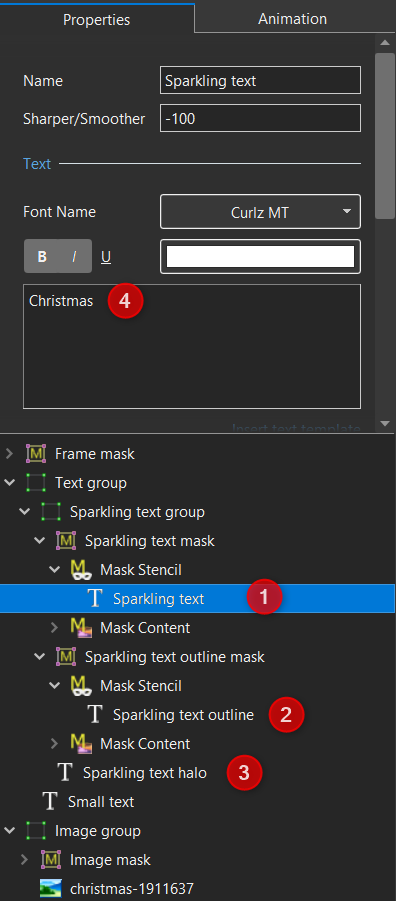 Delete the text group
To delete the text group, select the "Text group" object, then delete it with the delete key on the keyboard.
Delete the animated frame
To delete the animated frame, select the "Frame mask" object, then delete it with the delete key on the keyboard.